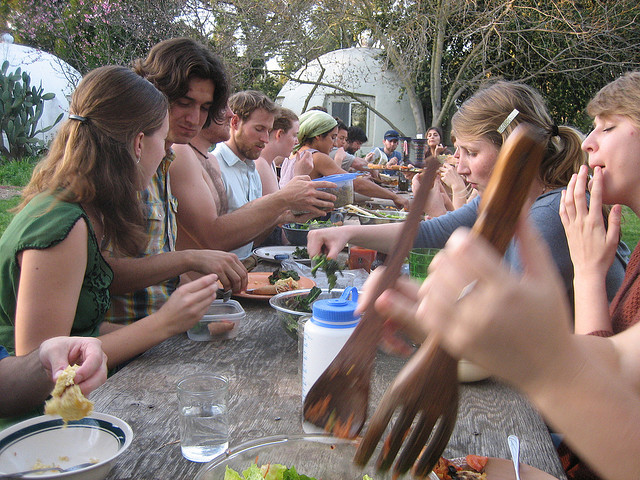 JJ: This past week we watched Wanderlust and traveled to Fairhope, AL, which got us thinking a lot about intentional communities. I asked my friend Clay Parks to join our discussion. He's looking to start an intentional community in Missouri. Below are his answers to the questions that we presented him.
Clay: Tell us a little bit about yourself and why you feel that starting an intentional community is the best way to create community.
→ My wife and I (Clay Parks) live in St. Louis, MO. We're in our 20's and have our first child on the way. Clay is a social worker and Hannah is a yoga teacher but attending nursing school in the next year. We're Eastern Orthodox Christians, so most of these answers will have that flavor. We try our best to live a simple life in living sustainably and being charitable to others. We've been a part of two intentional communities one in Seattle, WA with Mennonite 20-somethings and an intentional church community in Philadelphia, PA. I researched intentional communities for my M.Th, see the attached document.
The attribute of vulnerability in facing your fears of the "other," your own prejudices, and embracing the unpredictable is the blessed norm within an intentional community; difficult tasks to foster in a less-open place.
Clay: Why would you be interested in starting an intentional community versus living in a neighborhood and fostering community through church or other social gatherings?
→ Fostering community through church and social gatherings is an incredibly good thing and by no means something to poo-poo on. The choice to live in an intentional community is a selfish one: we believe in and love the power of food, primarily a home cooked meal. Jesus liked food. He went to dinner parties and hung out with the outcasts and these people went away changed. We've found that there is something special about sharing conversation over a crowded table, delicious fare on fork, and maybe some fresh brewed coffee in hand. Something happens when yummy food is present; vulnerability happens, deep questions arise, and listening (mostly forced because of chewing) becomes a bit more intently. Around the table, you're able to discuss subjects that aren't necessarily suitable at church or the local civic group (although it's possible) such as: the relationship between Jesus and the Buddhist tradition; the role of Christian anarchism; or the option of electing not to vote.
Clay: What are some benefits to starting an intentional community?
→ One benefit to starting an intentional community is that it stretches and grows you. Jesus said "blessed are the poor." He didn't say "blessed are those who help the poor." Something about the poor (those who face material, spiritual, and physical poverty) is blessed. It's hard to describe to someone who doesn't have experience being with the poor, but something changes you when you spend time with someone who is poor. Mother Teresa used to often talk about seeing the face of Jesus in the poor (see Matthew chapter 25). Now, one can meet, serve, eat with the poor at church or the local organization, but can leave right afterward and go to the safety of their home. To have someone who is poor live in your intentional community or house and to support them in their need, in that special, blessed vulnerability you often find that you are the one who is truly poor and your poor friend is rich.
Clay: What are some drawbacks to starting an intentional community?
→ The people. It's hard to deal with people at times and unless your community is determined and well-versed in conflict resolution, look out!
Clay: What are some details about the intentional community that you are starting?
→ Well, we're going to try our best to be focused on the following attributes that are apart of the New Monasticism movement:
The "Twelve Marks" of new monasticism express the common thread of many new monastic communities. These "marks" are:

Relocation to the "abandoned places of Empire" [at the margins of society]
Sharing economic resources with fellow community members and the needy among us
Hospitality to the stranger
Lament for racial divisions within the church and our communities combined with the active pursuit of a just reconciliation
Humble submission to Christ's body, the Church
Intentional formation in the way of Christ and the rule of the community along the lines of the old novitiate
Nurturing common life among members of an intentional community
Support for celibate singles alongside monogamous married couples and their children
Geographical proximity to community members who share a common rule of life
Care for the plot of God's earth given to us along with support of our local economies
Peacemaking in the midst of violence and conflict resolution within communities along the lines of Matthew 18
Commitment to a disciplined contemplative life (http://en.wikipedia.org/wiki/New_Monasticism#Common_themes)
Our community (tentatively named "Philokalia Place" Philokalia="love of all things beautiful") will try our best to live out the 12 characteristics but will look a bit different:
We plan to focus on sharing a common rule of life through following the hours of prayer, doing a weekly vespers service at our house, fasting and feasting through the liturgical calendar, and celebrating and consoling each other.
We plan to face our own fears and questions by: welcoming guest speakers of other religions, creeds and lifestyles; watching documentaries to stretch us; and welcome our friends, family, nomads, and those in need to share our space with us.
We have a little backyard farm growing with chickens and plan to share our eggs and the fruits of our labor with our neighbors. We hope to celebrate with friends and strangers through parties, potlucks and dinners, game nights, and discussion groups.

Clay: Why would it be important that each member of the community share the same values?
→ Shared values are important, but mutual submission is even more important. When one begins to put their own personal preferences above others, the community is in trouble. To see a superb example (who I've visited) of mutual values and submission: http://www.bruderhof.com/life/

Clay: What do you do if one member rejects the tenants of the community?
→ Have to take every individual situation when it comes and handle it uniquely. Questions have to be asked why does this person dislike the idea of the other tenant living in community. Is it because of fear? If so, how can we alleviate those fears? Is it because the person straight up doesn't like the other person? That will have to be worked through in creative ways (translation: I don't have an answer).
Clay: How do you plan to avoid the social stigmas that are typically associated with intentional communities?
→ You have to bless/love/benefit the community and invite others to come along and participate.

You may also like: