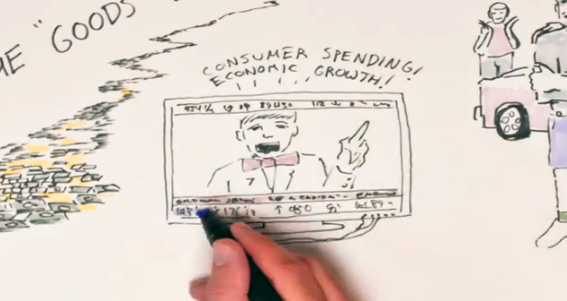 Open class with different versions of "Here Comes the Sun" to lead into happiness discussion.
Discuss homework responses.
Brief discussion of happiness and eudaimonia drawn from The Effects of TV book. Emphasis on research responses from the E-Media fast assignment. Difference between long term and short term happiness.
E-media fast quotes from students:
"Basically it seems that if I did not watch television, play video games, or talk on the phone, I would be a lot smarter and a better cook as well."
"The one thing I can say about this project is that it made me become more productive with my time."
"It was comforting though to have my parents to talk to without all of these distractions. It has been a very long time since we have talked as much as we had that day. I spent my day cooking, playing piano, and reading. I was so much more relaxed doing these things."
"I began to realize how much they had grown up lately. I do not usually spend a lot of time with them even when I come home on the weekends because I am watching television or going to the movies with my boyfriend."
"I discovered many things about my friend that I had not known in the eight years that we have been friends."
Read 10 things science says makes us happy.
Watch clips from Culture in Decline and High Price of Materialism:
GROUP ACTIVITY: Break into groups and create advertisements reflecting something that truly makes us happy: billboard, video, radio, magazine.
HOMEWORK: In journal, jot down your favorite food and what you think it says about you.
You may also like: