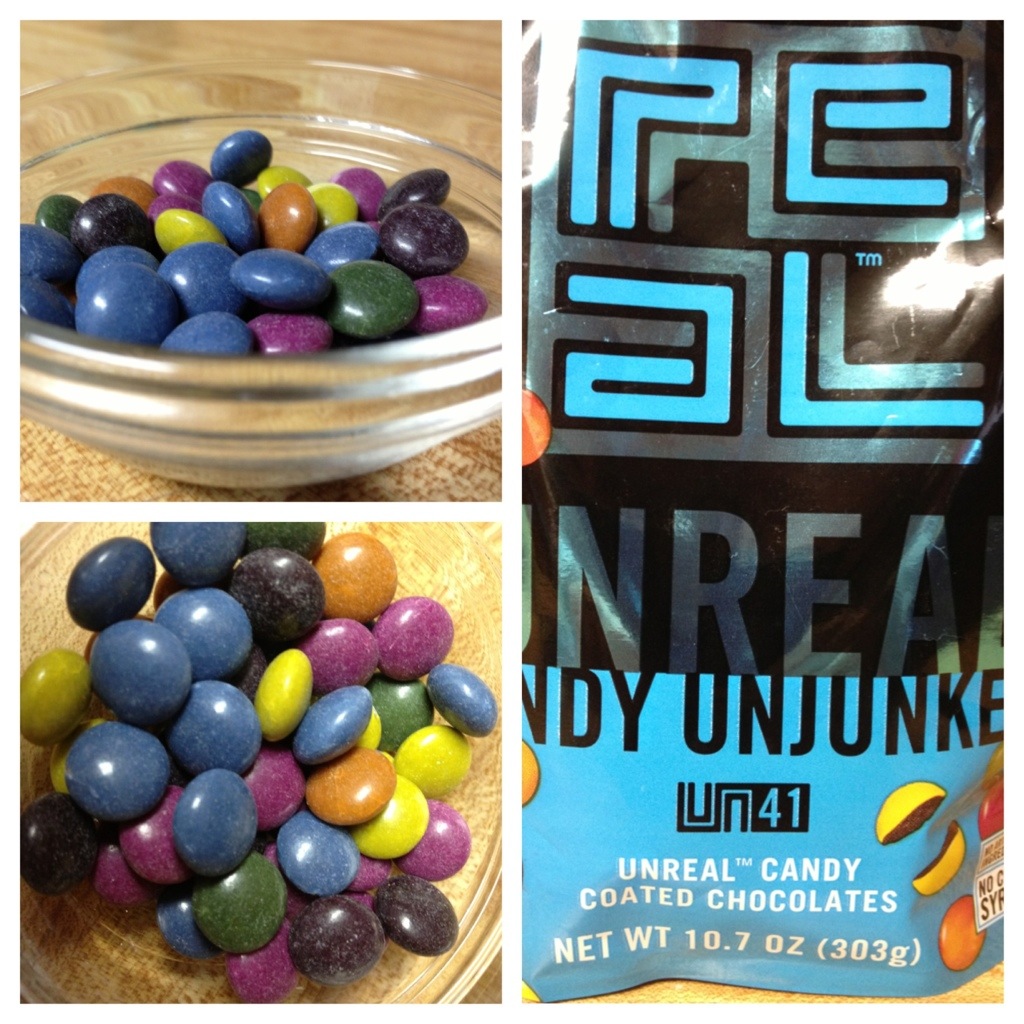 I had heard of Unreal candy a couple of months back, but assumed it wasn't going to be available anywhere near where I live, however, I was pleasantly surprised to see them on the shelf at my local CVS! I happily picked up a package to try them out.
The claim to fame is that they are "unjunked," meaning that they don't contain all of the junk that's in traditional candy. See what they mean here:
Corn syrup?  Out.  Partially hydrogenated oils?  Out.  GMOs?  Out.  Artificial colors, flavors, and preservatives?  Out. Reduced sugar by over 40% per serving on average?  Check. They also decided key ingredients needed to be responsibly sourced, supporting farming communities and preventing destruction of the rain forests. All ingredients needed to be non GMO.  Dairy needed to come from pasture raised cows with no antibiotics or added hormones.  Why?  Because it's the right thing to do for people and the planet. – getunreal.com
You may have noticed that the last sentence there is making an ethical claim!
Environmental ethics is a branch of philosophy that really hasn't gotten nearly as much academic attention as one might expect considering how much issues like global climate change have been in the news as of late. However, in the more colloquial sense, the philosophy of sustainability and fair trade has really taken off in the past few years.
One of the biggest challenges in supporting such movements, especially in my home state of Mississippi, has been access to these products, as many of them are only available in large cities . For me, the coolest part about Unreal is that it is available on a wide-scale and supports sustainable practices. It's often said that we vote with our dollars, meaning we support the ideology behind the products we purchase. In an economy where those choices are often limited, it's nice to see a new option available.
Additionally, the company focuses on these products having less "junk" in them, implying they are better for us. Check it out:
So, how do they measure up? LKAwesome and I both tried the candy coated chocolates, and we were extremely impressed. First, they actually tasted like rich, delicious chocolate, much more so than their more popular competitors. They also seemed to be more filling. We were satiated and happy to actually stop eating them, rather than mindlessly consuming an entire bag.
We were also excited to read on the packaging where the coloring for the candy shells came from: beetroot juice, turmeric root extract, and purple cabbage juice.
The only thing that we noted could be improved is the packaging, as it was not eco-friendly or recyclable. Despite this one complaint, we were extremely happy with this purchase, and I see no reason it won't become my go to candy from now on. I'm excited to try some of the other types.
Interested in trying it? It's also available from Amazon:
You may also like: