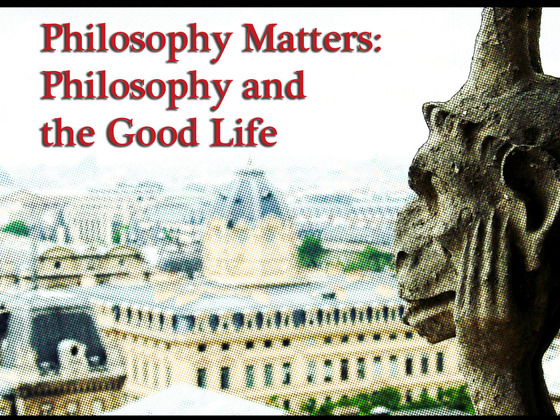 Our Kickstarter project for an interactive book on philosophy and the good life has launched! Please share this share this post and then support our project! http://kck.st/ZTK4OX
An interactive book exploring the philosophic ideas of the good life in simple, clear language that's easy to understand.
The Good Life
My name is J.J., and my passion in life is helping others learn about the way that philosophy can help us understand and improve our lives. This book is the culmination of my life's work up to this point, and I am extremely passionate and excited about seeing it come to completion. The funds raised here will help me add the interactive elements to this project.
Interactive
Explore the meaning of life and different ideas of what constitutes the good life with this interactive book that is written in clear, easy to understand language. I will use interactive QR codes that can be scanned using your phone in order to add additional content to this book, including access to polls, discussion forums, videos, and interviews with others!
Here's an example of a QR code that leads to my website:
Content
Below is a preview of the topics that are covered by this book:
Introduction to the spirit and pursuit of philosophy (Socratic Method)
Challenges with discussing happiness
External theories of happiness (Hedonism, Epicureanism, Utilitarianism)
Internal theories of happiness (Stoicism, Buddhism)
Positive psychology and the science of happiness
Pessimism and arguments against happiness
Virtue and happiness
How modern media impacts happiness
Death
Guide to finding meaning in life
Support
If you are able to, please pledge to see that this project can become a reality. If you're unable to pledge or in addition to your financial contribution, you can help spread the word!
Here are four ways you can help let others know about this project:
Any additional questions or comments, feel free to contact me at: jsylvia ATphilosophymatters.org
Thank you so much for your support!
RISKS AND CHALLENGES
1. Explaining philosophy in a way that's easy to understand, yet still accurate.
One of the biggest challenges any time you deal with philosophy is walking the line between discussing ideas in a way that is easy to understand but still able to accurately represent those ideas. In addition to teaching introduction to philosophy courses at the university level, I have also taught philosophy at the middle school and high school levels, which has helped me learn how to best discuss philosophy with a general audience. In addition, I have been blogging for a general audience for almost year at the site philosophymatters.org. In addition, I have published chapters in several of the pop culture and philosophy book series, such as Doctor Who and Philosophy and Radiohead and Philosophy. This experience has prepared me to be able to write a philosophy book that is approachable even by those who have never had a philosophy course or read another philosophy book in their life.
2. Completing an entire book and getting it published
Actually following through and completing a book and knowing how to get it published can be a major challenge, but I've already done so with two other books that can be found now through Amazon.com: The Effects of TV and Hugs, Kisses & All the Rest. I have the dedication and know-how to bring this project to completion!
Rewards
Pledge $2 or more

THANK YOU: You will receive a thank you shout out on our website, http://www.philosophymatters.org

Estimated delivery: Dec 2012

Pledge $5 or more

FREE E-BOOK: All of the previous rewards, plus a PDF copy of one of the author's other books of your choosing.

Estimated delivery: Dec 2012

Pledge $10 or more

POSTCARD: All of the previous rewards, plus a postcard with custom art mailed to you.

Estimated delivery: Jan 2013

Pledge $15 or more

E-BOOK: All of the previous rewards, plus a PDF copy of the finished interactive book.

Estimated delivery: Nov 2013

Pledge $25 or more

PAPERBACK BOOK: All of the previous rewards, plus a paperback copy of the finished book.

Estimated delivery: Dec 2013

Add $10 to ship outside the US

Pledge $50 or more

8×10 PRINT: All of the previous rewards, plus an 8×10 print featuring art related to the project.

Estimated delivery: Dec 2013

Add $10 to ship outside the US

Pledge $100 or more

T-SHIRT: All of the previous rewards, plus a t-shirt related to the project.

Estimated delivery: Dec 2013

Add $10 to ship outside the US

Pledge $250 or more

SIGNED BOOK & ACKNOWLEDGMENT: All of the previous rewards, plus a signed copy of the paperback book, as well as an acknowledgment in the book of your contribution.

Estimated delivery: Dec 2013

Add $10 to ship outside the US

Pledge $500 or more

ONLINE COURSE: All of the previous rewards, plus be the first to get FREE access to an online course that will be based on this book. The course will guide you through ideas, discussions, and activities that will help you implement the ideas in this book.

Estimated delivery: Dec 2013

Add $10 to ship outside the US

Pledge $1,000 or more

Limited (20 of 20 left)

INCLUSION IN THE BOOK: All of the previous rewards, plus you will be included in the book. Do you have an interesting story to tell and are willing to be interviewed? Do you have artwork or photography that could be featured? If you pledge this amount I will contact you and we will work out a way that you can be featured in the context of this book.

Estimated delivery: Dec 2013

Add $10 to ship outside the US

Pledge $2,500 or more

PERSONAL VIDEO CALL: All of the previous rewards, plus a personal video call on Skype or Google Hangout to discuss a philosophic topic of your choice. Questions about the good life? Religion? The nature of reality? Knowledge? This is your chance to ask!

Estimated delivery: Dec 2013

Add $10 to ship outside the US

Pledge $5,000 or more

Limited (10 of 10 left)

PERSONAL PHILOSOPHY SESSION: All of the previous rewards, plus I will come to you and lead a philosophy session for you and up to 15 of your friends. I will work with you to craft a customized session based on your interests or hobbies. Ever considered bicycling and philosophy? Beer and philosophy? We will work together to craft a day of philosophy that you are sure to enjoy! Additional costs may be incurred if items are needed for the event.

Estimated delivery: Dec 2013

Add $1,000 to ship outside the US
You may also like: