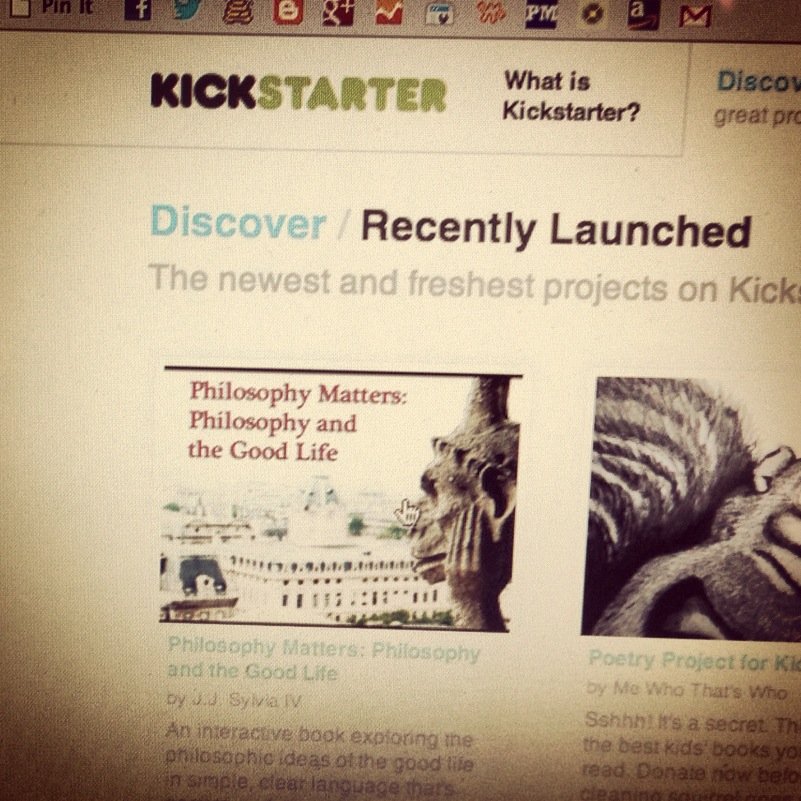 Friends and colleagues met at a coffee shop/record store/bar/deli in Hattiesburg, Mississippi to celebrate the clicking of a button. It wasn't just any button, it was a "launch" button for the newest Kickstarter project, "Philosophy Matters: Philosophy and the Good Life" interactive book! All of us hovered around the shoulders of JJ as he pressed the big green button. It was real. The start to a month-long journey: 30 days, $30,000 and even a 30th birthday thrown in there.
It's rare that you get to witness something truly starting to take off. Yesterday marked the "best day ever" for blog stats, JJ's first book hit #6 on the Amazon best-seller charts (Happiness category for the Kindle), and I considered picking up a hitchhiker because he looked like an alien. 
When was the last time you were able to feel a part of something truly bigger? We all belong to a community of thinkers at Philosophy Matters and each day, post by post, we break down the barriers between what it means to be a philosopher and live the good life. So consider supporting this project (the prize levels are pretty great, too!).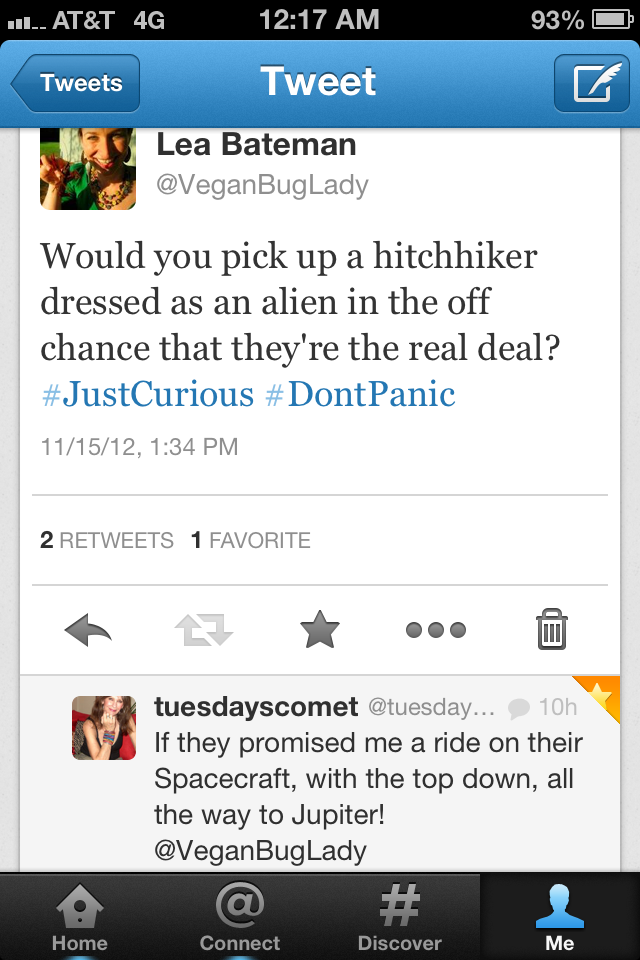 Oh, yeah. The alien hitchhiker. Maybe I've read too much Douglas Adams in my life, but my two hour long commutes have resulted in a lot of thinking (truck drivers must be the best philosophers in the world!). All it took was a man wearing a giant backpack with a guitar neck sticking up that was reminiscent of a strange alien head and my mind was off… I honestly thought I saw an alien just sauntering down a country highway in (very) rural Mississippi. I considered stopping. What if he was real? What types of conversations would we have? What if he was just a dude dressed up as an alien walking down a rural Mississippi highway? What types of conversations would we have? I think know how important it is that we continue to use our imagination to formulate questions and continually modify the way we see the world. Don't worry, mom, I didn't pick up the hitchhiker (those rules were already covered in a previous post). But I did remind myself that each person on the planet (or even, perhaps, off the planet) sees the world in a totally different way. We use the words of philosophers of the past to give it all a little more meaning, direction and perspective. Thank you for your continued support of philosophy!
And thanks for the reply, @tuesdayscomet, way to keep the conversation going! 
You may also like: